See the Art of Science at Rutgers' S.T.E.A.M. Women's Empowerment Conference on March 25
03/23/2017
The
Art of Science
uses the context of a community art gallery to introduce new audiences to to the beauty of structural biology.
Dr. Jewel Plummer Cobb was an influential educator, trailblazer and scientist who served as the sixth Dean of Douglass at Rutgers from 1976 to 1981. Dr. Cobb passed away on New Year's Day, 2017, at the age of 92, in Maplewood, NJ.
S.T.E.A.M. Women's Empowerment Conference is a forum where individuals will be inspired to take personal responsibility in owning and embracing their story and identity. Admission is free; registration is online.
---
PDB-101 is "Best of the Web"
03/21/2017
Genetic Engineering & Biotechnology News recently highlighted PDB-101 as Best of the Web, recognizing the website's beautiful protein structures and wealth of educational resources.
PDB-101 is an online portal developed by RCSB PDB for teachers, students, and the general public to promote exploration in the world of proteins and nucleic acids. PDB-101 features support learning about the diverse shapes and functions of these biological macromolecules and their relationship to biomedicine and agriculture, from protein synthesis to health and disease to biological energy.
These resources are made freely available thanks to support from the National Science Foundation (DBI-1338415), the National Institutes of Health, and the US Department of Energy.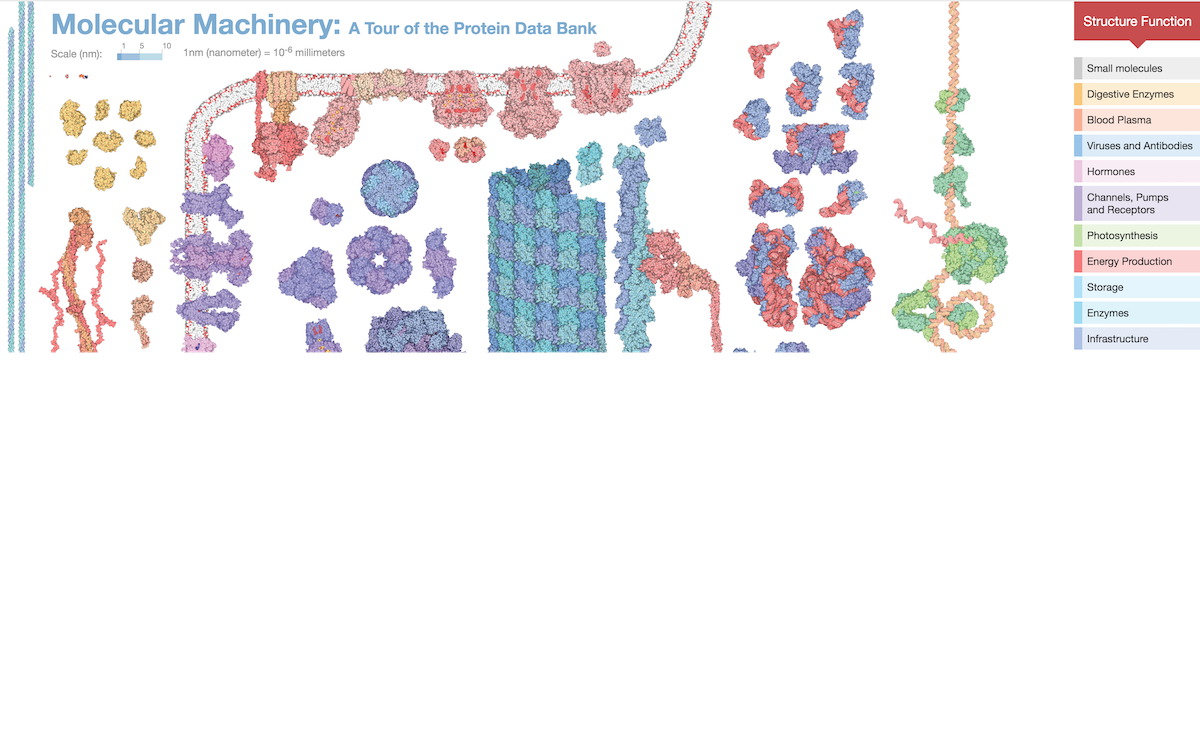 Interactive Molecular Machinery animation available from
PDB-101
.
---
Enter the 2017 Video Challenge
02/21/2017

For the fourth year, RCSB PDB invites high school students across the USA to create short videos that tell a molecular story of health and disease. This year's focus is the Molecular View of Diabetes Treatment and Management. To get started, teams are encouraged to use PDB-101 resources related to diabetes, diabetes treatments, and molecular visualization.
Videos may be submitted from March 7, 2017– May 22, 2017. Award winners will be announced on June 13, 2017.
For more information, sign up for the Video Challenge Monthly Newsletter and visit the challenge webpage at PDB-101.
---
Molecular Origami: Build 3D models of Zika virus
01/31/2017
Zika virus infects people around the globe. For most, the virus causes a mild illness that is quickly fought off by the immune system. But a connection between Zika infection in pregnant women and birth defects has underscored the need to find ways to fight the disease. Zika is spread by mosquitos, so our primary defense is to remove breeding sites and to take measures to avoid being bitten. There are a few examples of the Zika virus and related structures available in the PDB archive. Public availability of these atomic coordinates to medical researchers worldwide will accelerate new antiviral drug and vaccine development.
To build paper models of the Zika virus, download and print the template PDFs (Zika Virus/5ire and Zika Virus with antibodies/5h37).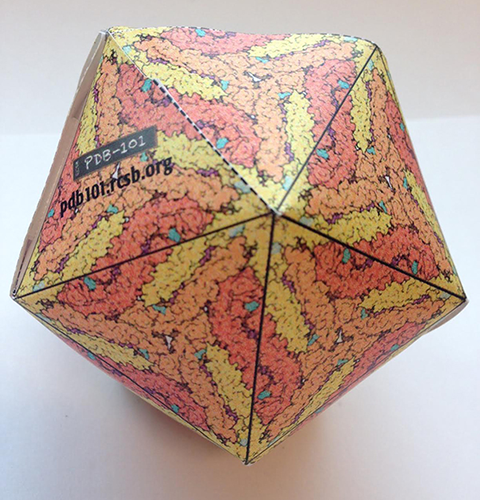 Build a paper model of Zika virus (PDB entry 5ire)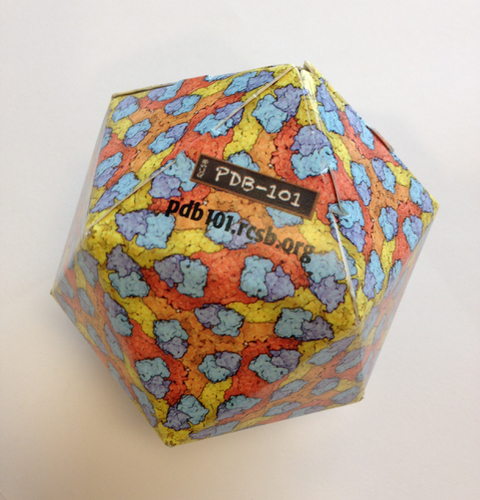 Paper model of Zika virus with neutralizing antibodies (PDB entry 5h37)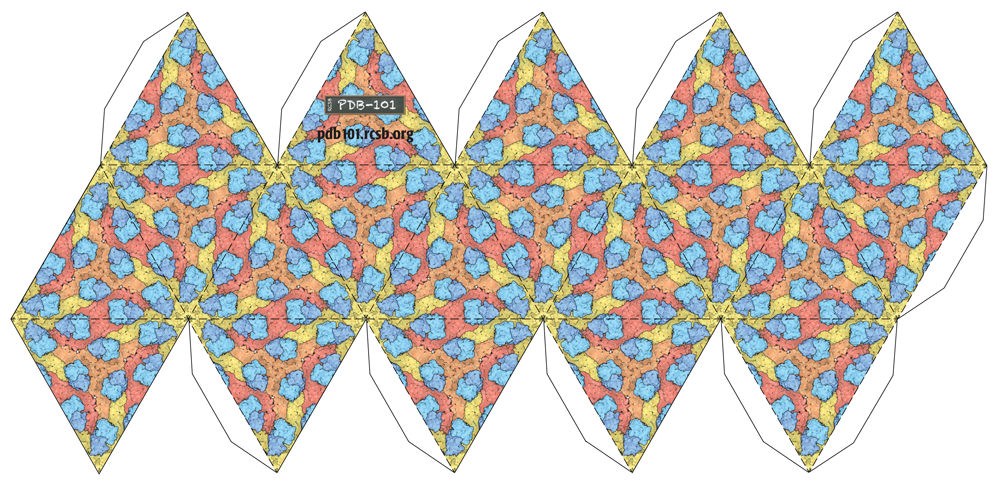 Cut out the structure along the dashed lines, and fold along the solid lines. Then tape or glue the flaps into place to form the viral icosahedron.
Use the PDB-101 Browser to explore more resources and articles about Zika and other viruses.
---
Winter Newsletter Published
01/10/2017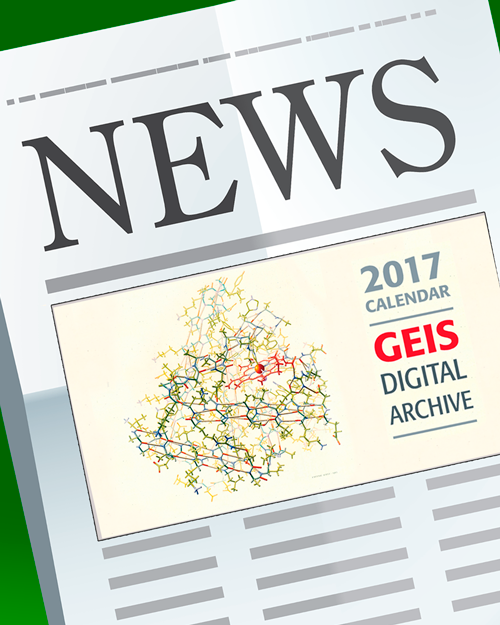 Sign up to receive electronic updates each quarter.
The Winter 2017 issue of the RCSB PDB Newsletter is now online.
Read about 2016 milestones and a review of recently-added website tools and features.
In the Education Corner, Rebecca Alford and Jeffrey Gray (Johns Hopkins) describe the Rosetta Commons summer Research Experience for Undergraduates (REU). Interested in applying? Submissions are due February 1, 2017.
RCSB PDB's Newsletter is published and archived online.
---
2016 FASEB BioArt Winner
01/03/2017
Video stills of three HIV enzymes are among the 2016 Winners of FASEB's BioArt Competition. This year's 10 winning images and three videos represent a wide range of research in the biomedical and life sciences, from technology that may aid in recovery from spinal cord injury to a portrait of the New York City skyline "printed" in yeast.
Winning entries were unveiled on FASEB's website and will be exhibited at the National Institutes of Health.
The stills are from a new molecular animation available at PDB-101 that illustrates A Molecular View of HIV Therapy.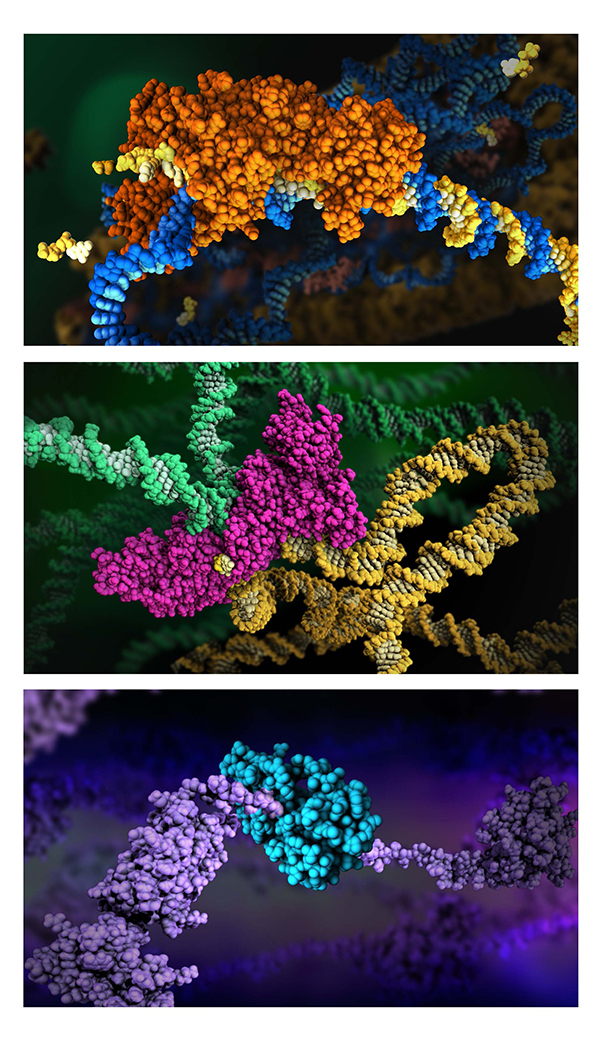 Video stills from the animation
A Molecular View of HIV Therapy
by Maria Voigt and David S. Goodsell
---
Past news and events have been reported at the RCSB PDB website and past Newsletters.