Diabetes is a growing global health concern.
cdc
Statistics
Over the past three decades the number of people living with Diabetes Mellitus globally has more than doubled. Amongst the different types of diabetes, Type 2 is the most common form, and accounts for 90% to 95% of cases. This number is projected to rise to 439 million by 2030  (Chen, Magliano, & Zimmet, 2011).
In the United States, diabetes mellitus is becoming more and more prevalent. The Centers for Disease Control and Prevention reported that from 1980 through 2014 (Figure 1) , the number of Americans with diagnosed diabetes has increased from 5.5 million to 22.0 million, a fourfold increase. Additional statistics and information can be found at CDC Data and Statistics.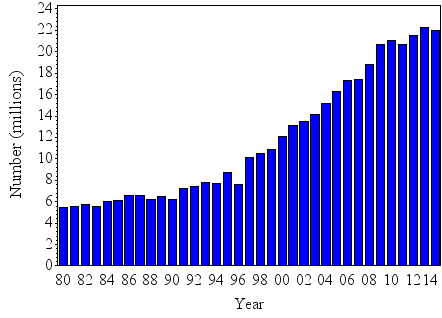 Figure 1. Number (in Millions) of Civilian, Non-Institutionalized Persons with Diagnosed Diabetes, United States, 1980-2014 (Centers for Disease Control and Prevention).